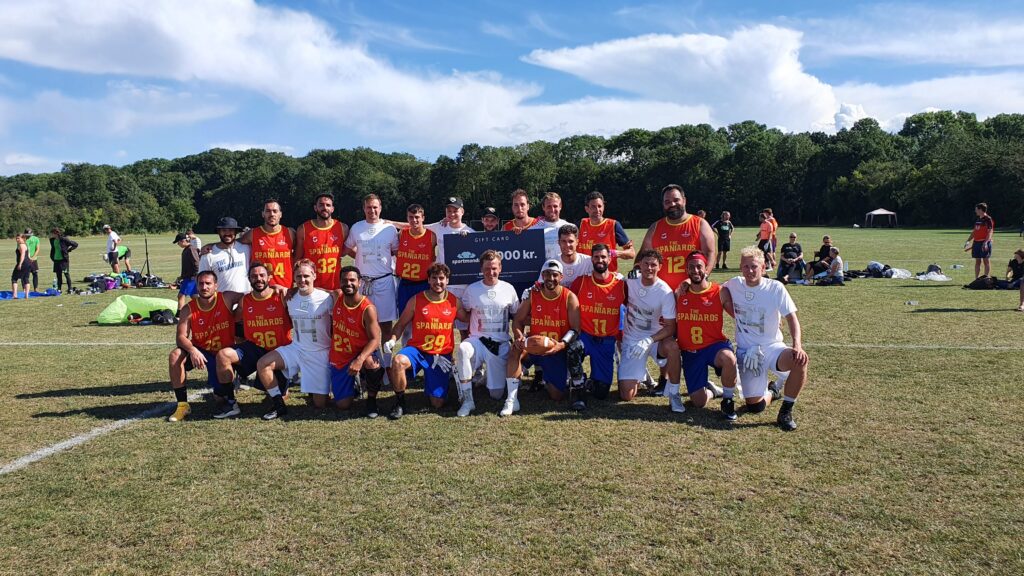 It's incredible how fast a weekend can come and go. And yet you can feel like Friday evening was ages ago. An exciting weekend with top level flag football in wonderful Copenhagen. Around 300 players split on 29 teams (around half the players on Amazing Amazones roster). 122 matches with some of the best teams in Europe competing. I do not know the number of national team players present in the tournament, but my guess it was more than a few. The highest level of flag football I have seen live, and I was part of the Champions Bowl in Copenhagen years ago. Close matchup. Few points taking you from an 0-6 to a 3-3 record.

Armadillos was in the end too strong for anyone to handle, but something new happened 7 year into our tournament. Armadillos lost their first ever Sportmonda Bowl group match, and were actually close to losing another one.

We had our first ever ladies division. Eight teams competing for the title, once again a high level. I'm happy Amazing Amazones and San Juan Dolphins did not play in the leisure division. Would have left some men's team feeling bad about them selves. San Juan Dolphins ended up being the first ever ladies Champion.
And then we got our first Swedish champion in the Leisure division. Back when we started it was only Sweden and Denmark participating, and the gap was significant between the two countries. Our neighbors are inching closer, and we don't like it 🙂
That being said. Great comebacks by Marvels in both the semi final and the final. One of the better comebacks you will ever see in a 2×15 minutes running clock flag football match, and in a Final that is. Impressive.

Thanks to Allan and Lisbeth Rokkedahl for producing and to Jimmy and Jonathan for speaking and filming our livestream production for AFI. And of course to AFI for having us on their platform. Please note that you can still watch the matches again on: https://flag.afi.tv/.
Let's end with the true heroes and the biggest thanks. The people who has made this possible. First of Claes Scherwin who worked on the schedule relentlessly, and kept coming up with creative changes everytime a team dropped out.
My amazing teammates and friends Joachim, Frederik, Peter and Jonas. Who has worked very hard all weekend to make sure we had the best possible setup.
And then last but not least. Thomas and Patrick that make sure that we have all the hardware we need to host the tournament.
Patrick is also the director of the tournament and together with Jonas and Ulrik he makes the tournament run smoothly.

No words can describe how thankful I truly am.